some vendors online only; some in person only; some both
Supporting your local farms and entrepreneurs' is investing in your community. It is good for our local economy, helps sustain our local food supply and maintains our rural landscape. Our market operates every first Saturday of the month, November thru May.
9am to noon, Blazing Star Grange Hall, 15 North Rd, Danbury NH
Virtual....online only vendors
Huckins Farm, Love and Lemons, Nannies Canning Pantry and Warner River Produce will not be at the market however, order through harvesttomarket.com for product pickup at the market. Order by 7am on the Thursday before each market day. Pickup 9:30-11am on market day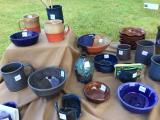 Physical Market Vendors as of Oct 30th
Nancy's Chocolates, Linda Danforth & Jessica, Offabit Farm, Huntoon Farm, Mary Lyn Ray (Nov & December only) , Bog Mountain Pottery(not in December) RJM Woodworks & Dianes Designs (not in November)
Breakfast and Lunch Served'
One floor of vendors offering locally grown, made and produced products. For November & December,,,,, In person only-- local Author Mary Lyn Ray

FEATURE INVENTORY Apple Pie Filling
Item No: 37821
Menu Group: Food
Section: Preserved Foods
Category: Condiments
Description: Apple Pie Filling
Vendor: Nannies Canning Pantry
Unit: Quart
Price: 10.00
Weight:
Quart of pie filling for 9 inch pie.