Today Is Friday, September 29, 2023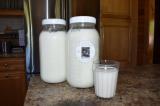 the Danbury Winter Market will be held every first Saturday through May from 9am to noon. As no one was able to carry on with the responsibilities , we will not have an online market this year. If someone would like to manage the online market and pickup, let us know.
Blazing Star Grange encourages your support of our Danbury Winter Market Vendors. Local farms provide a strong anchor in the security of local food supply and they, along with our artisans, strengthen our regions economy.
---