Today Is Wednesday, October 5, 2022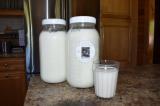 the Danbury Winter Market will be held every first Saturday through May from 9am to noon. Some vendors have products for sale at the market, some only offer through the harvesttomarket.com online platform and some do both.
Order pickup is just inside the main entrance from 9:30 to 11:30 on market day.
Online only vendors are Love and Lemons, Nannies Canning Pantry and Warner River Produce.
Vendors that participate in both manners this month are :Huckins Farm, Merrimack County Conservation District and Huntoon FArm. You have until 7am on the Thursday before the Saturday's market to place your order.
Vendors that are only at the market and NOT online for May are unXpected Beauty, Off a Bit Farm, RJM Woodworks, Dianes Designs, L Danforth, Omnipotent LLC and Traci Campbell. Downstairs, Sarah will have starter plants and extras from the Merrimack County Conservation District Spring Tree, plant and shrub fundaiser will be on sale.
Blazing Star Grange encourages your support of our Danbury Winter Market Vendors. Local farms provide a strong anchor in the security of local food supply and they, along with our artisans, strengthen our regions economy.
---