11/27 Update--Welcome Scott Farm !
Welcome Scott Farm with super flavorful late season heirloom apples! My current favorite are Roxbury Russets, with their bold, rich taste and unexpected firm texture. Put these or other varieties on a buffet line with the historical blurb, and I bet your eaters will be curious and delighted!
Harlow Lettuce Rocks!
Harlows lettuce from Westminster OPrganics is holding wonderfully under cover--Don't miss the last of the fall salads!

See all inventory below--click items to go to the order platform. Order by Monday 10 am for Tuesday Delivery 11/29. Call me anytime with questions.

Hope you had a great Thanksgiving!

Hans 802 579 5519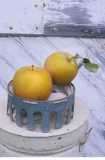 Feature Vendor
The Scott Farm
Our 626 acre property is home to 23 historic structures and hillside orchards heavy with fruit. We offer you the best in locations for an indoor or outdoor wedding, a small social event or seminar, as well as historic house rentals.

Scott Farm produces 70 varieties of ecologically grown apples - heirloom apples such as Roxbury Russet, Belle de Boskoop, and Cox's Orange Pippin and unusual apples like Winter Banana and Hidden Rose - some of the finest in color, texture, and taste. Other fine fruits include quince, gooseberries, medlars, Asian pears, plums, raspberries, elderberries, table grapes, pears, blueberries, nectarines, and peaches.

Heirloom Apples

To get the most from your apples always refrigerate them. A sampling of our varieties...

Ananas Reinette - This small, yellow-skinned apple was grown in France in the 1500's. It has a zesty, pineapple, citrus flavor and flesh that has a fine grain texture. Translated into English, this would mean the "royal pineapple."

Ashmead's Kernel - Dr. Ashmead planted an apple seed in his garden in early 1700 and it grew into a delicious variety that has won the highest awards from the Royal Horticultural Society. Kernel is another term for an apple tree grown from seed, and this one tastes like a crunchy lemon when it's first picked. The flavor mellows as the sugars develop.

Baldwin - A handsome, deep red apple originally from Massachusetts in the early 1700's. There is a monument in Wilmington, MA where the original tree grew. This variety was the major New England apple until the 1930's when a terrible freeze killed most of the trees. It is a hard apple, sometimes referred to as the woodpecker. It has the quintessential apple flavor and back in the day when pie was made for breakfast, it was a very hardy meal.

Belle du Boskoop - This apple is originally from the Netherlands and has a tart, sprightly flavor. It is a superb cooking apple and is the only apple considered suitable for making authentic strudel.

Black Gilliflower or Sheep's Nose - A New England variety from the early 1800's. Traditionally it is used as a cooking apple due to its rich flavor and aromatic quality. Cultivated flowers with the scent of cloves are called gilliflower, black refers to the color the skin sometimes gets as it ripens. It's also known as "Sheep's Nose" because of its unusual shape which tapers toward the base.

Black Oxford - From Oxford County, Maine this is a handsome apple from the early 1800's. It was the regional favorite for eating, cooking, or making cider. This variety keeps so well that it is sometimes referred to as "the rock." You can still find some of these old trees in the pastures and barn yards in Maine.

Blue Pearmain - A New England apple dating to the early 1800's. Henry David Thoreau wrote in his journal about his preference for Blue Pearmain. The crisp, rich flavor makes it a good apple for fresh eating and baking.

Bramley's Seedling - This apple dates back to 1803 in Nottinghamshire, England. It was and remains the most popular culinary apple in England today. It is excellent for pies, baked apples, or combined with other apples for a crisp.

Calville Blanc d'Hiver - A 15th century French apple that has a vanilla-like flavor and a wonderful texture when cooked. Of all the French apples Calville Blanc is considered the best to cook with because of its resiliency.

Cox's Orange Pippin - The most popular of English apples, it has been awarded the highest honors by the Royal Horticultural Society. It was originally grown from seed (hence the name Pippin) in 1825 by an amateur horticulturist named Richard Cox. It has a tart, citrus flavor exquisitely tempered by a sweet pear flavor. It is excellent for eating and cooking.

Dolgo Crabapples - These crabapples have an intense, zesty flavor similar to cranberries. These tangy crabapples originally came from Kazakhstan several hundred years ago. Their best use is in sauces, sorbets, chutney or as a condiment for meat or poultry. They make a beautiful rose-colored jelly. During harvest the crew will often use these crabapples to suck on for a boost to help finish filling that last apple bin late in the day.

Duchess of Oldenburg - One of the finest cooking apples available. Originally from Russia, it was introduced to the US around 1835. It was one of the main varieties first planted in the Scott Farm orchards in 1912.

Esopus Spitzenberg - Thomas Jefferson grew this variety at Monticello and it is said to have been one of his favorite types of apples. It is considered one of the best eating apples in America. It originally came from New York in the 1700's.

Empire - A well known all around use apple. It has the best qualities of each of its parents, the McIntosh and the Red Delicious. It is primarily a good eating apple, though it also makes a great crisp.

Fameuse/Snow Apple - This aromatic, crisp apple was the "famous apple." Originally from Quebec, it was planted in the early 1600's. One hundred years later, it was grown extensively in Northern New England. Our orchard manager, Zeke, got these cuttings from an old tree in a farm yard in Maine and brought them here to the Scott Farm. It is best for fresh use and is similar to McIntosh for cooking.

Gravenstein - A very old apple from Italy. The combination of both tart and sweet flavors makes this a wonderful culinary apple as well as a sprightly flavored eating apple.

Hubbardston Nonsuch - The pride of Hubbardston, MA in the late 1700's. For generations this apple has been highly regarded as a dessert, or fresh use apple. "Nonsuch" was an Americanized version of the French term "nonpareil" used to describe apples of the finest flavor.

Hudson's Golden Gem - An American apple from the early 1900's. The original tree was a "chance seedling" found growing in a hedgerow. This golden russeted apple has a crisp, sweet flesh with a ripe pear flavor.

Jonagold - A crisp, juicy apple with a sprightly mix of sweet and tart flavors. A cross between Jonathan and Golden Delicious.

Karmijn du Sonneville - This is one of the more intensely flavored apples. Originally from the Netherlands, it has a robust and citrus flavor that will eventually mellow. If you like a tart apple for cooking or eating, this is an excellent choice.

Lady Apple - This is the oldest apple still being grown today and was already well established during the Roman Empire. Because it was a small and flavorful apple, it was popular during the Renaissance when ladies would keep one tucked away in their bosom and taken out to freshen their breath. It was also widely used as a Christmas decoration by wiring them to wreaths.

Lamb Abbey Pearmain - This is one of the most delightful apples in the world. Two hundred years ago Mary Malcomb planted an apple pip, or seed, in her garden in Lamb Abbey, England. The fruit from the tree that grew was crisp and coarsely textured. The flavor is a lively blend of sugars and acids and pineapple which becomes more pronounced as the harvest moves later into the fall.

Maiden's Blush - This apple was grown for cooking and the "evaporation trade" or dried apples. It is an American apple originating in the late 1700's. When apples were an important part of a family's winter food supply, almost every farm had one or two Maiden trees.

Northern Spy - The best use for this apple is for cooking, though it is admired for eating out of hand as well. Introduced in the late 1800's it was named after James Fenimore Cooper's novel, "The Spy," which was very popular during this time.

Orleans Reinette - When asked our orchard manager will tell you that this is "one of the most handsome apples on the planet." Grown in France for hundreds of years it has a flattened shape with a russeted, rosy cheek. It has a combination of citrus and nutty flavors and makes for a good cooking apple as well as for eating out of hand.

Paula Red - These apples are best for fresh use, or as we say in the orchard business, eaten out of hand though they will do for light cooking.

Pinova - A very new German apple that is a relative of the Cox's Orange Pippin. Its blend of sweet and tart flavors makes this variety the favorite at all of the tastings.

Red Astrakan - The first eating apple of the new season was originally from Russia. Cuttings were brought to this country by Swedish immigrants in the mid 1800's. It's good for fresh eating or sliced with yogurt or cereal.

Reine des Reinettes - A French apple from the 1700's which has a high sugar content that is balanced with acidity. It's a juicy apple, good for eating out of hand or with a knife. It is also good for cooking and in Normandy it is considered the best apple for making hard cider. One of the favorites at our apple tastings events held at the farm.

Rhode Island Greening - This apple was grown by Mr. Greening at his Inn and Tavern near Newport, Rhode Island. Although it is a good eating apple, it excels in baked goods. Pies made with this apple have won awards all over the world. Legend has it that this variety came from the tree of knowledge in the Garden of Eden.

Roxbury Russet - The oldest American apple variety. Our Jamaican-apple picking crew say this apple has a nectar-like flavor that is similar to guava. It has a very high sugar content though you may not notice it due to the acids. Cider made from this apple is like syrup, it is so thick.

Sansa - A Japanese apple that is crisp, juicy, sweet, and has ripe-pear flavor. It's an offspring of Gala.

Yellow Transparent - Dr. Hoskins of Newport, Vermont introduced this Russian apple to the US in 1870. It became very popular and almost every farmstead had a tree. The flesh is soft and tart and was traditionally a sauce apple and the first fresh apple of the season.

Wolf River - This apple is from Wisconsin around the mid 1800's when it became a very popular culinary apple in New England. These were packed in barrels and shipped to England. It's a wonderful pie and baking apple.

Zabergau Reinette -This apple is from the Zaber River region in Germany. It has sugary, sweet, nutty flavor that develops after it sits for a while. It's excellent for cooking, sauces, and eating.

All website content © 2008 Scott Farm. A
SCOTT FARM
see
www.scottfarmvermont.com/index.html
for more information or contact:
David Tansey
President and Farm Manager, Scott Farm
President, The Landmark Trust USA
[email protected]
707 Kipling Road
Dummerston, VT 05301
(802) 254-6868
(802) 257-7783 fax
FEATURE INVENTORY Roxbury Russet
Item No: 5141
Menu Group: Food
Section: Fruits and Berries
Description: Roxbury Russet
Vendor: The Scott Farm
Unit: Half bushel
Price: 24.00
Weight: 20.00
Roxbury Russett
This is the oldest American apple variety. Some folks say the flavor is similar to guava and the texture like a coconut. It has a very high sugar content, though you may not notice it due to the acids. Cider made from this apple is like nectar, it is so thick and sweet. A medium size apple with russeted skin, it is known as a leather-coat apple.
FEATURE INVENTORY Ananas Reinette
Item No: 5142
Menu Group: Food
Section: Fruits and Berries
Description: Ananas Reinette
Vendor: The Scott Farm
Unit: Half bushel
Price: 24.00
Weight: 20.00
Ananas Reinette
This small yellow skinned apple was grown in France in the 1500's. It has a zesty, pineapple, citrus flavor and flesh that has a fine grain texture. Used mostly for eating out of hand, it is also a fine cooking apple.
Current Products Available Online
FOOD
SECTION
CATEGORY
DESCRIPTION
FARM
Baked Goods
Bread
4 seed sunny flax
orchard hill breadworks
Baked Goods
Bread
Four Seed Whole Wheat Bread
Common Loaf Bakery
Baked Goods
Bread
Honey Oat Whole Wheat
Common Loaf Bakery
Baked Goods
Bread
Kalamata olive and rosemary
orchard hill breadworks
Baked Goods
Bread
Sandwich French
orchard hill breadworks
Baked Goods
Bread
Seeded Wheat
orchard hill breadworks
Baked Goods
Bread
Weekly Special
orchard hill breadworks
Baked Goods
Bread
Whole Grain Special
orchard hill breadworks
Baked Goods
Bread
Whole Wheat Cinnamon Raisin Bread
Common Loaf Bakery
Baked Goods
Granola
Gluten Free Apricot Granola
True North Granola Company
Baked Goods
Granola
Gluten Free Apricot Granola
True North Granola Company
Baked Goods
Granola
Gluten-free Ginger-Pineapple Granola
True North Granola Company
Baked Goods
Granola
Gluten-free Ginger-Pineapple Granola
True North Granola Company
Baked Goods
Granola
Gluten-free Ginger-Pineapple Granola
True North Granola Company
Baked Goods
Granola
Go Nuts Granola
True North Granola Company
Baked Goods
Granola
Go Nuts Granola
True North Granola Company
Baked Goods
Granola
Granola Blues
True North Granola Company
Baked Goods
Granola
Granola Blues
True North Granola Company
Baked Goods
Granola
Granola Blues
True North Granola Company
Baked Goods
Granola
Wholly Granola
True North Granola Company
Baked Goods
Granola
Wholly Granola
True North Granola Company
Baked Goods
Pies
Apple Pie
Common Loaf Bakery
Baked Goods
Pies
Pumpkin Pie
Common Loaf Bakery
Beverages
Cider
Fresh Pressed (10 or more)
Dutton Berry Farm
Beverages
Cider
Fresh Pressed (under 10 gallons)
Dutton Berry Farm
Dairy
Cheese
1 Year Premium Cheddar Cheese
Grafton Village Cheese
Dairy
Cheese
1 Year Premium Cheddar Cheese
Grafton Village Cheese
Dairy
Cheese
Maple Smoked Cheddar
Grafton Village Cheese
Dairy
Cheese
Maple Smoked Cheddar Trim
Grafton Village Cheese
Dairy
Yogurt
Non Fat Greek: Blueberry (6 oz)
Commonwealth Dairy
Dairy
Yogurt
Non Fat Greek: Peach (6 oz)
Commonwealth Dairy
Dairy
Yogurt
Non Fat Greek: Plain (6 oz)
Commonwealth Dairy
Dairy
Yogurt
Non Fat Greek: Strawberry (6 oz)
Commonwealth Dairy
Dairy
Yogurt
Non Fat Greek: Vanilla (6 oz)
Commonwealth Dairy
Dairy
Yogurt
Non Fat Plain Greek Quart (32 oz)
Commonwealth Dairy
Dairy
Yogurt
Non Fat Plain Quart (32 oz)
Commonwealth Dairy
Eggs
Chicken
Free-range Organic
Westminster Organics
Fruits and Berries
Apples
Cortland
Green Mountain Orchards
Fruits and Berries
Apples
Crisp Red Eating--Best Pick
Green Mountain Orchards
Fruits and Berries
Apples
Honey Crisp Fancy
Green Mountain Orchards
Fruits and Berries
Apples
Macoun Apples
Green Mountain Orchards
Grain Products
Cereals
Oats So Good, a Museli
True North Granola Company
Grain Products
Cereals
Oats So Good, a Museli
True North Granola Company
Herbs
Oregano
fresh cut bunches
Dutton Berry Farm
Herbs
Parsley
Curly, bunches
Dutton Berry Farm
Herbs
Parsley
Flat-Leaved bunches
Dutton Berry Farm
Herbs
Parsley
Organic, Fresh Flat or Curly
High Meadow Farm
Herbs
Rosemary
Fresh Cut Bunches
Dutton Berry Farm
Herbs
Rosemary
Fresh-cut Bunches
Dutton Berry Farm
Herbs
Rosemary
Organic, Fresh
High Meadow Farm
Herbs
Sage
Dutton Berry Farm
Herbs
Tarragon
Organic, Fresh
High Meadow Farm
Herbs
Thyme
Organic, Fresh
High Meadow Farm
Meat
Beef
Ground Beef
Westminster Meats
Poultry
Whole Chicken
Organic, free range, fresh frozen-see note
Westminster Organics
Vegetables
Arugula
bunch
Dutton Berry Farm
Vegetables
Beets
Organic, Golden
High Meadow Farm
Vegetables
Beets
Organic, Red
High Meadow Farm
Vegetables
Cabbage
Organic Green
Westminster Organics
Vegetables
Cabbage
Red
Westminster Organics
Vegetables
Cabbage
Red
Westminster Organics
Vegetables
Carrots
Grade A
Dutton Berry Farm
Vegetables
Carrots
Oganic #1, washed
High Meadow Farm
Vegetables
Carrots
Organic #2, washed
High Meadow Farm
Vegetables
Carrots
Organic, Fresh Washed
High Meadow Farm
Vegetables
Carrots
Organic, Fresh Washed
High Meadow Farm
Vegetables
Celeriac
organic, trimmed and washed
Westminster Organics
Vegetables
Eggplant
Large Black
Dutton Berry Farm
Vegetables
Eggplant
Slender Italian
Dutton Berry Farm
Vegetables
Garlic
Organic, Med-Large Chef Quality
High Meadow Farm
Vegetables
Greens
Yakina Savoy
Old Athens Farm
Vegetables
Greens Collard
Dutton Berry Farm
Vegetables
Greens Collard
Dutton Berry Farm
Vegetables
Kale
Dutton Berry Farm
Vegetables
Kale
Dutton Berry Farm
Vegetables
Kale
Curly Winterbore
Dutton Berry Farm
Vegetables
Kale
Green, Organic
Deep Meadow Farm
Vegetables
Kale
Greenhouse, Curly Winterbore
Dutton Berry Farm
Vegetables
Kale
NEW Lacinato or "dinosaur"
Dutton Berry Farm
Vegetables
Lettuce
Green Boston
Westminster Organics
Vegetables
Lettuce
Green Boston
Westminster Organics
Vegetables
Lettuce
Green Leaf
Westminster Organics
Vegetables
Lettuce
Green Leaf
Westminster Organics
Vegetables
Lettuce
Mixed Heads
Old Athens Farm
Vegetables
Lettuce
Red Boston
Westminster Organics
Vegetables
Lettuce
Red Boston
Westminster Organics
Vegetables
Lettuce
Red Leaf
Westminster Organics
Vegetables
Lettuce
Red Leaf
Westminster Organics
Vegetables
Onions
Large Red Onions, Organic
Deep Meadow Farm
Vegetables
Onions
Organic, Cipollini 'Gold Coin'
High Meadow Farm
Vegetables
Onions
Organic, Cipollini 'Red Marble'
High Meadow Farm
Vegetables
Onions
Organic, Large Yellow Storage
High Meadow Farm
Vegetables
Onions
Organic, Large Yellow Storage
High Meadow Farm
Vegetables
Onions
Organic, Large Yellow Storage
High Meadow Farm
Vegetables
Onions
Organic, Yellow Storage 'NY Early'
High Meadow Farm
Vegetables
Onions
Organic, Yellow Storage 'NY Early'
High Meadow Farm
Vegetables
Potatoes
Banana Fingerlings, Organic
Deep Meadow Farm
Vegetables
Potatoes
Chieftan, red skin, white flesh, best for steaming or boiling
Fertile Fields Farm
Vegetables
Potatoes
Purple. Organic
Deep Meadow Farm
Vegetables
Potatoes
Red 2011- new crop
Dutton Berry Farm
Vegetables
Potatoes
Red Potatoes, New crop(washed)
Dutton Berry Farm
Vegetables
Potatoes
Red, Unwashed
Dutton Berry Farm
Vegetables
Potatoes
Russets (see note!)
Westminster Organics
Vegetables
Potatoes
Russets (see note!)
Westminster Organics
Vegetables
Potatoes
Washed Yukon Gold (reduced price--see note),
Dutton Berry Farm
Vegetables
Potatoes
Washed Yukon Gold (reduced price--see note),
Dutton Berry Farm
Vegetables
Potatoes
White potatoes,New crop( washed)
Dutton Berry Farm
Vegetables
Potatoes
White, Unwashed
Dutton Berry Farm
Vegetables
Potatoes
White- 2011- New crop
Dutton Berry Farm
Vegetables
Pumpkin
Organic, Pie Pumpkin
High Meadow Farm
Vegetables
Root Vegetables
Organic, Root Veggie Mix
High Meadow Farm
Vegetables
Squash Winter
Organic, Butternut
High Meadow Farm
Vegetables
Squash Winter
Organic, Delicata
High Meadow Farm
Vegetables
Squash Winter
Pealed Butternut
Westminster Organics
Vegetables
Squash Winter
Pealed Butternut
Westminster Organics
Vegetables
Sweet Potatoes
Organic seconds, small or irregular
Picadilly Farm
Vegetables
Sweet Potatoes
Organic, orange flesh, mixed sizes, avg 75 ct
Picadilly Farm
Vegetables
Turnips
Gilfeather
Dutton Berry Farm
Vegetables
Turnips
Hakurei (white and sweet)
Old Athens Farm
Vegetables
Turnips
Organic Purple Top
Westminster Organics
Inventory Info Last Updated: 2011-11-27 08:46