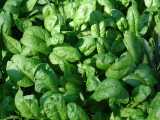 May 4: Spinach Update!
Due to cold in the past weeks, Old Athen's organic baby spinach is still over a week out! When ready, this vibrant tender stuff will cost $5.88 /lb delivered

In the mean time, Westminster Organics has a limited supply (60 lbs) of large leafed winter-over spinach. Flavor and freshness of the large leaves are just fine, but it a bit big now to use in fresh salads--great for sauteing or steaming. It is priced at $2.50/lb--delivered in 4 lb half-bushel boxes.

If you need VT baby spinach next week please order from Black River or another local distributor.

Thanks!
Order on-line at
www.windhamfarmandfood.org
or call me by Next Monday Morning May 7 ,by 10am (...but remember to order Fresh Bread and Bagels by Saturday night!)
FOOD
SECTION
CATEGORY
DESCRIPTION
FARM
Baked Goods
Bagels
2.5 oz. everything
Elm City Bagels & Deli
Baked Goods
Bagels
2.5 oz. plain
Elm City Bagels & Deli
Baked Goods
Bagels
2.5 oz. poppy seed
Elm City Bagels & Deli
Baked Goods
Bagels
2.5 oz. sesame seed
Elm City Bagels & Deli
Baked Goods
Bagels
4.2 oz. cheddar spinach
Elm City Bagels & Deli
Baked Goods
Bagels
4.2 oz. cinnamon raisin
Elm City Bagels & Deli
Baked Goods
Bagels
4.2 oz. energy
Elm City Bagels & Deli
Baked Goods
Bagels
4.2 oz. parmesan pepper
Elm City Bagels & Deli
Baked Goods
Bagels
4.2 oz. rosemary
Elm City Bagels & Deli
Baked Goods
Bagels
4.2 oz. sunflower raisin
Elm City Bagels & Deli
Baked Goods
Bagels
4.2 oz. whole wheat
Elm City Bagels & Deli
Baked Goods
Granola
Back Roads Granola
Back Roads Granola
Baked Goods
Granola
Gluten Free Apricot Granola
True North Granola Company
Baked Goods
Granola
Gluten-free Ginger-Pineapple Granola
True North Granola Company
Baked Goods
Granola
Go Nuts Granola
True North Granola Company
Baked Goods
Granola
Granola Blues
True North Granola Company
Baked Goods
Granola
Wholly Granola
True North Granola Company
Baked Goods
Pies
Chicken Pot Pie
Just Pies
Baked Goods
Pies
Cream Pies
Just Pies
Baked Goods
Pies
Farmer's Pie
Just Pies
Baked Goods
Pies
Maple Pecan Pie
Just Pies
Baked Goods
Pies
Old Fashioned Apple Pie
Just Pies
Baked Goods
Pies
Pumpkin
Just Pies
Baked Goods
Pies
Vegetable Pot Pie
Just Pies
Dairy
Cheese
1 Year Premium Cheddar Cheese
Grafton Village Cheese
Dairy
Cheese
1 Year Premium Cheddar Trim
Grafton Village Cheese
Dairy
Cheese
2 Year Cheddar Trim
Grafton Village Cheese
Dairy
Cheese
Maple Smoked Cheddar
Grafton Village Cheese
Dairy
Yogurt
Non fat Greek: Maple (6 oz)
Commonwealth Dairy
Dairy
Yogurt
Non Fat Greek: Blueberry (6 oz)
Commonwealth Dairy
Dairy
Yogurt
Non Fat Greek: Peach (6 oz)
Commonwealth Dairy
Dairy
Yogurt
Non Fat Greek: Plain (6 oz)
Commonwealth Dairy
Dairy
Yogurt
Non Fat Greek: Strawberry (6 oz)
Commonwealth Dairy
Dairy
Yogurt
Non Fat Greek: Vanilla (6 oz)
Commonwealth Dairy
Fruits and Berries
Apples
Cortland
Green Mountain Orchards
Fruits and Berries
Apples
Crisp Red Eating--Best Pick
Green Mountain Orchards
Fruits and Berries
Apples
Honey Crisp Fancy
Green Mountain Orchards
Grain Products
Cereals
Back Roads Granola
Back Roads Granola
Grain Products
Cereals
Oats So Good, a Museli
True North Granola Company
Herbs
Rosemary
Fresh Cut Bunches
Dutton Berry Farm
Poultry
Whole Chicken
Organic, free range, fresh frozen-see note
Westminster Organics
Prepared Foods
Frozen Items
Oragnic Butternut Squash
Westminster Organics
Vegetables
Carrots
Grade A
Dutton Berry Farm
Vegetables
Carrots
Grade B
Dutton Berry Farm
Vegetables
Corn
7# organic frozen corn
Westminster Organics
Vegetables
Kale
Red kale
Dutton Berry Farm
Vegetables
Parsnips
Westminster Organics
Vegetables
Potatoes
Red Potatoes,washed
Dutton Berry Farm
Vegetables
Potatoes
Red, Unwashed
Dutton Berry Farm
Vegetables
Sprouts & Shoots
Alfalfa Sprouts
The Gill Greenery
Vegetables
Sprouts & Shoots
Broccoli Sprouts
The Gill Greenery
Vegetables
Sprouts & Shoots
Salad Mix Sprouts
The Gill Greenery
Vegetables
Squash Winter
Organic Pealed Butternut, cooked and frozen
Westminster Organics
Baked Goods
Bagels
2.5 oz. whole wheat
Elm City Bagels & Deli
Inventory Info Last Updated: 2012-05-04 15:40