Today Is Tuesday, September 28, 2021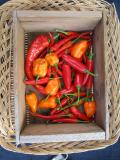 Meet Me at the Market!
---
You may now order Webster Ridge Farm products (meats, preserves, condiments, pickles, jams and jellies) through our Warner River Produce site on harvesttomarket.com and choose a pick up location. These products can only be ordered on-line!

Current markets are listed to the right.

I have updated the ordering page so that you can order and select from a number of alternate pickup locations.


Warner River Produce
• Pay ahead using credit or debit, that way no money exchanges hands
a. We give a 10% bonus for each dollar you pay ahead
b. Doesn't expire
c. You receive a receipt at market/pickup site
d. Receive a monthly statement listing starting balance, purchases, remaining balance
e. Call in your cc/debit card number

• Order online at https://harvesttomarket.com/ and choose a pickup or delivery site

• Use our delivery or pick up options
a. Pickup at one of our alternate sites or select delivery:
i. Saturdays – PICKUP -Contoocook Train Depot, 10-noon
ii. Saturdays - PICKUP – Weare, 65 N Stark Hwy, 1-3 pm
iii. Saturdays - MARKET - Concord Downtown Winter Farmers Market at 20 South Main St, 9-noon
v. Saturdays – MARKET -Concord - Cole Gardens on Loudon Rd, 9:30-1 pm
vi. Saturdays - MARKET- 1st Saturday of the month, Nov thru Apr, Blazing Star Grange, Danbury NH,
9am-1pm (Mar 6 , Apr 3 and May 1)
vii. Tuesdays -PICKUP - St Paul's School (Date and Location TBA)
viii. Wednesdays – Market – Penacook , Riverhill Grange, (32 Horse Hill Rd) 4--6:30 pm
ix. Home delivery

Warner River gave up the organic certified designation. However, we are still committed to organics and we meet or exceed the current organic standards. We simply cannot describe our products as "organic".

Our products may be found at local farmers markets, restaurants, bakeries and stores in Canterbury, Concord, Contoocook, Danbury, Franklin, Hopkinton, Weare and our farm stand at Boulder Farm in Hopkinton.

The Warner River seedling order sheet is usually available in Feburary/Mar. Use the sheet to order spring vegetable, herb and flower transplants. Pick up an order sheet at the market, email warnerriverorganics@tds.net or log onto harvesttomarket.com and go to Warner River Plants in Webster to see what we have available and to order.

High tunnels (basically unheated greenhouses) allow us to grow and sell fresh produce all year. We also offer summer bulk orders (corn, tomatoes, cherry tomatoes, cucumbers, peppers) and fall storage crops (beets, carrots, celeriac, garlic, onions, parsnips, potatoes (red, white and blue), squash, sweet potatoes, turnips (baby, purple top and gilfeather) and rutabaga. Our fresh winter produce includes: microgreens, salad mix, spinach, cilantro, kale, scallions and bok choi.

Warner River offers year-round farmers market CSA and a Pay Ahead option ($100 increments)

Our Farmers Market CSA lets you select what you want, when you want and in the quantities that you need at markets in Canterbury, Concord, Contoocook, Danbury, Franklin, Hopkinton, Penacook, St Paul's School, Weare and our farm stand at the corner of Jewett Rd and 202/9 in Hopkinton (Boulder Farm).

Included in the CSA are any products that we offer. There is no expiration, renew at any time and receive a $.10 bonus for every dollar you purchase or renewal


Full -- Pay $400 -- Receive $440 worth of produce
Half -- Pay $200 -- Receive $220 worth of produce
Single -- Pay $100 -- Receive $110 worth of produce



Summer season runs from Jun to Oct, winter season from Oct to May.

Order anytime online at https://harvesttomarket.com/farmers-market/Warner-River-Produce
We offer
Seasonal mixed produce, culinary and medicinal herbs. Winter produce includes: Greens (Salad Mix, Lettuce Mix, Spinach, Kale, Asian Greens, Micro-Greens, Swiss Chard), Beets, Brussel's Sprouts, Cabbage, Carrots, Celeriac, Garlic, Parsnips, Potatoes, Onions, Scallions, Leeks, Shallots, Shiitake Mushrooms, Rutabaga, Turnip and Watermelon Radish.

We also offer Apples (from Carter Hill Orchard and Brookdale Fruit Farm), Dried Products (Beans, Hot Peppers, Herbs and Herb Blends), Raw Honey, Frozen Products (Blueberries, Strawberries and Tomatoes), Plants (Bay and Wheat Grass), Eggs from happy free range chickens and ducks, Seedlings, plants and Products from Webster Ridge Farm (Condiments, Fruits Canned & Processed, Jams, Jellies, Butters & Spreads, Pickles, Relish, Salsas & Sauces, Meats - Pork & Beef).
Spring and Fall Transplants
We grow many spring and fall transplants for sale (Culinary and Medicinal Herbs, Veggies and Flowers). If you have a special variety you would like us to grow, send an email or call.
---